Dragonsgate College originally caught my eye due to its unique art style and its presentation. The pallet and style create a calm and pleasant atmosphere to represent a place of learning. But art cannot carry a game, so the question for the class is whether or not the experience is worth your time.
PLANNING
Sitting down to your first game of Dragonsgate, it's not strange to feel overwhelmed. There are a lot of action spaces on that board and it isn't clear which ones are worthy of your time. The board feels crowded with numbers and opportunity. Each die value has many potential actions, and the die you choose is also something to be considered. Planning out the whole round is a sound idea, but the actions available to you on your turn will consistently cause your plans to change. Dragonsgate is a game for people that are good at adapting to change, because the order and type of actions you employ is going to be fluid.
I am not a fan of games that don't allow me the chance to plan. Five Tribes with more than two players caused my eyes to glaze over between my turns because there was absolutely no reason to pay attention to the board between actions. And while it can be frustrating to watch others use your die in Dragonsgate, the imp tokens – and the fact that most actions can be done with more than one die value – help to mitigate the loss of agency players can feel between turns.
COLORED DICE
Dragonsgate employs a fun mechanism wherein some of the dice in the draft pool are "owned" by specific players. Whenever you use a die you get to use its value to do an action. But whenever you use a die that belongs to another player, they also get to do an action with that die after you are finished. At a casual level this means that you should avoid your dice so that other players must take yours and give you an extra action. But if the available dice don't show the number you need, how many imps are you willing to spend to avoid taking your own dice? I would say that this works well to create difficult decisions, if not for the fact that every person I played with had a narrow-minded focus on this "rule" of not using their own dice. C'est la vie.
Many of you may be reading this to know about one particular action's power over the game. See, at the beginning of the game (and again on round 3), there will be white neutral dice to be used for actions. One of the actions, which can only be done with a 1 value die, allows you to replace an already used white die with another of your color to be used in all future rounds. This makes it more likely that you will gain extra actions in the subsequent rounds of the game. Many, when learning of this rule, start to question the luck element involved and are ready to cry foul. It feels like a forced action, something that everyone will try and do as soon as possible. But since the action can only be done on a 1 value die AND requires a white die to have already been used during the round, the action gives an unfair benefit to the second player of the first and second round of the game and could potentially cause an imbalance simply due to luck.
The gameplay should speak for itself that the action, while useful, is not that domineering. Let's play out how it works by assuming that you never choose your own die and we will only look at the dice you are adding into the pool. If you manage to replace a die on round 1, then you are giving up a round one action to get one more in the next four rounds. That is pretty powerful if it works out for you that way, but losing that action in round one could hinder your round two potential. When we consider the replacement to be -1 action, and all future rounds to have +1 action, then doing the replacement in rounds four or five gives no real benefit (other than a small bonus for having no extra dice). Replacing in round three gives +1 action, in round two gives +2 actions, and in round one gives +3 actions.
But again, all this depends on the idea that no one ever takes their own die. So I'm going to wave this big flag right now and tell you that taking your own die is a good idea because it takes away an action from your opponents. If you are being more efficient than them, or if they relied on you taking their die and granting them the extra actions, it can be detrimental to their goals.
And yes, you can win without adding all of your dice to the pool, I have seen it done.
IMPROVEMENTS
Overall I enjoy playing Dragonsgate, but I do wish it went a bit deeper with some of its ideas. Dragonsgate offers a taste of a number of different mechanisms, but really only fleshes out the dice drafting aspect.
Tile placement, à la Princes of Florence or Patchwork, is one of my favorite mechanisms in a game. Unfortunately, I don't think it is important enough here to merit discussion. Thematically it makes sense, you are indeed building a school and the rooms you add on help to define your college. But I wish that there were more rules and regulations as to where and what could be placed on your board in order to make the tile placement more interesting. As it stands now, you mostly just take the room that provides the benefit you need and put it where it can fit.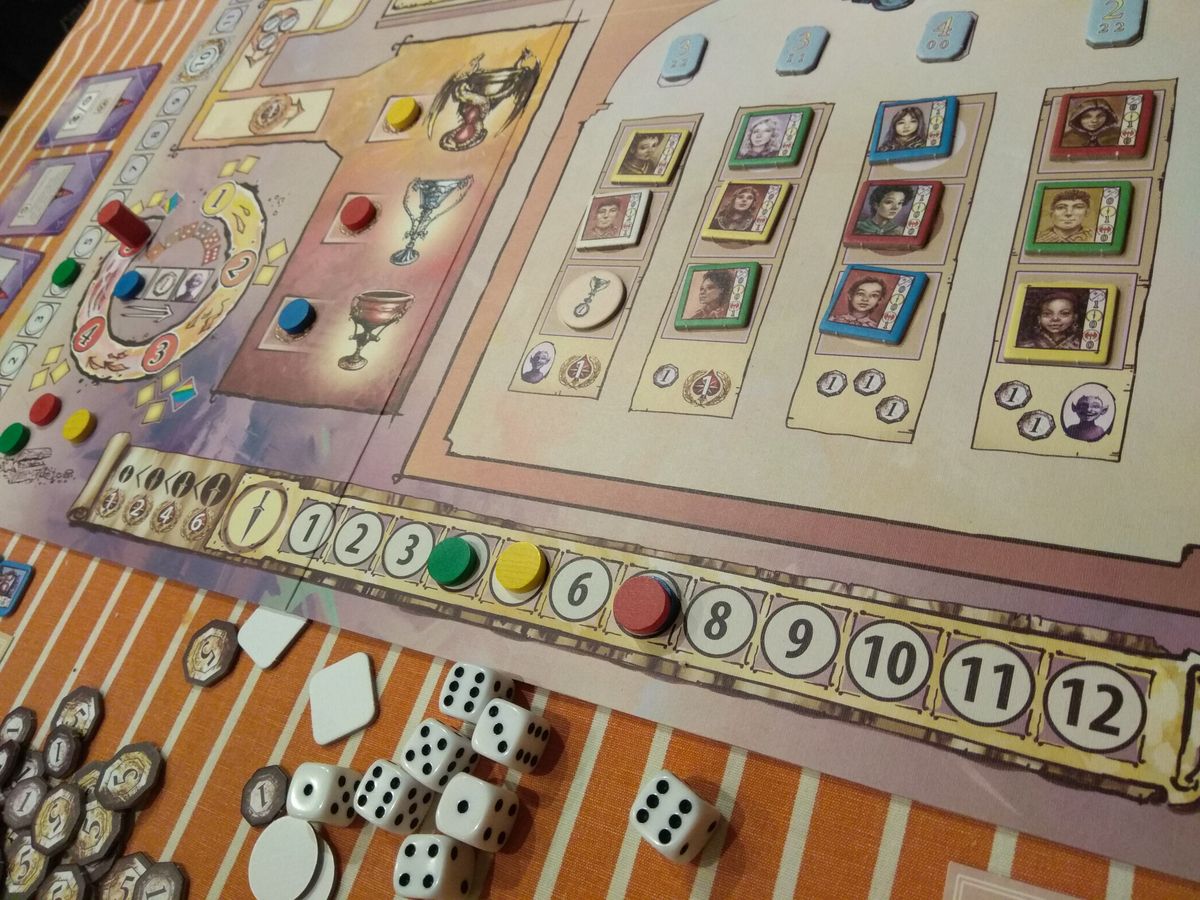 There is an intrigue track that you move along in the game, mainly for when your students get hired as thieves. While winning the track can give you a good swing in points (5 maximum and 2 minimum), there isn't really another reason to move along the track. A similar aspect of the game is the training dungeon, which gives you small rewards as you move through it and a bigger reward depending on who gets through it first. Moving along the intrigue track feels less interesting, and the lower the player count the less useful the action becomes. What I would like to see is a fix to the points provided at lower player counts, as well as micro rewards for advancing to higher positions on the track. Without doing this, training your students as thieves is the least interesting and useful action.
The last action I would improve is the start player action. You can spend any die to put your disk on one of three spots at the bottom of the board. One of the spots makes you the start player next round, one gives you a coin, and one gives you an imp. No one ever took the start player action because the benefits of being first are very small, especially since the available dice numbers are random and the start player token will still pass around the table if no one takes the action. Being last never felt like a problem. Also, no one will ever use the die for a single coin because there are other places that give more coins for the same amount of actions. The way we have thought to improve this action is that taking it will give you the reward plus every other unclaimed reward. This means the first person to take the action can be the start player and will get a coin and an imp, making this a much more useful action but still not overpowered.
PRESENTATION
There are a couple of issues in the design of the play area. Most of these are nitpicks, but one of them is fairly important.
Let's start with the nits. While in general the design of the board does its job in presenting all your available options, there are a few rules in the game that should have been presented on the board.
• You can buy an imp as a free action on your turn for 4 coins.
• You can buy a facedown student or professor.
• You can't spend coins to improve the main skill of the requested job.
These would have helped a lot, but they are minor. A much larger problem is the size of the icons on the tokens. I am not so old that my eyesight is going out, but the numbers on the professors and students is incredibly hard to see from a distance. But so long as someone sat near the action space, it was easy enough to share the information without needing to get up. Still, that feels like a graphical oversight.
Aside from these annoyances the components of the game are fairly good. The cardboard chits are very thick and I like the finishing used on the magic cards. I might replace the dice in my copy though, as I think the blue is too dark and the dice colors feel separate from the muted colors of the board. I'm also highly considering replacing my imp tokens with the imps from Dungeon Lords.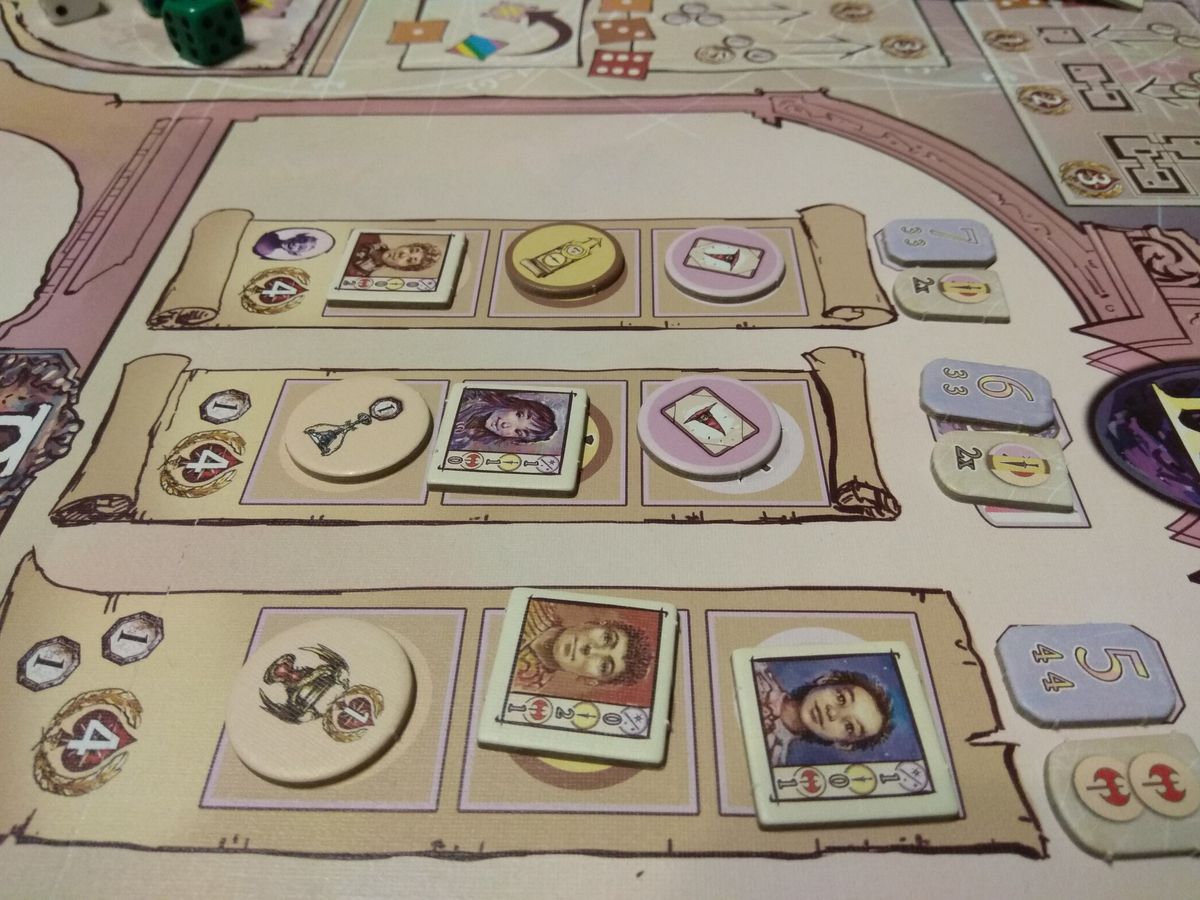 PASSING GRADE
Despite the quibbles I've mentioned and the improvements I think could be implemented, I did enjoy the games of Dragonsgate College that I played. The strategy of the game works well with each player needing to walk a parallel path to the same end goal. Unlike with a lot of Euros where efficiency is the key path towards victory, the way to win Dragonsgate is to be the best at navigating the potential options you have each turn.
In a typical action selection game you need to only consider which action you will take next; in Dragonsgate you'll have a few other factors to take into consideration. If you want to take action B then you'll need the dice that allow for it. Do you take your own die and rob the other players of a potential action, or do you need more actions this round so you use an opponent's die? If the die you want isn't available, can you use your imps or will you need them later? Will you have enough money at the end of the round to pay for your building upkeep if you take the action you want?
Efficiency is important in the game, because you don't want to give other players an action unless you think you'll come out ahead and desperately need their die. But the best player is going to be the one that plans their actions around future potential and has prepared for their goal in a better way.
CONCLUSION
There are things about Dragonsgate I would change but overall enjoyed the experience. It isn't a very heavy Euro and is not very stressful. A relaxing experience where you'll need to make many decisions and be ready to adapt to changes in your plan. Your first game may feel unbalanced, you may feel like you're simply wandering in the dark looking for handholds, and one strategy may seem dominant when the game has ended, but you should give it more than one play. The game may seem shallow after your first wade in, but it is deeper than it looks on the surface.
Overall: A-